Trending at CACI
Building a Data-Driven Army to Achieve Information Advantage
| Current Data Environment | CACI Solutions for a Next-Generation Data Environment |
| --- | --- |
| Software maintenance challenges due to an existing hybrid architecture (virtual machines and containers), and monolithic, complex code bases. | Vendor-agnostic, modular, containerized, microservices and open system architectures to develop, deploy, and scale application services independently. |
| Difficulty processing new/large data feeds that prevent data-driven decision making, algorithmic warfare, and effects with speed and precision. | Data-centric artificial intelligence/machine learning (AI/ML) solutions that leverage data management platforms for data aggregation and presentation. |
| Siloed sustainment approach across multiple, completing contracts. | Software sustainment and quality assurance to modernize systems. |
| Reduced interoperability due to proprietary code or limited rights usage. | Improved interoperability through unlimited data rights and open-source solutions to prevent vendor lock. |
| Difficulty adopting new technologies due to significant refactoring or re-architecting. | DevSecOps methodologies to integrate sustainment efforts with modernization. |
| Limited scalability as the entire application must often be redeployed on each instance, limiting warfighting functions. | Cloud-enabled and optimized edge solutions to process modular mission apps on smaller, localized nodes supported by AI/ML. |
This table illustrates what a future data-centric operational environment could look like - contrasted with current challenges.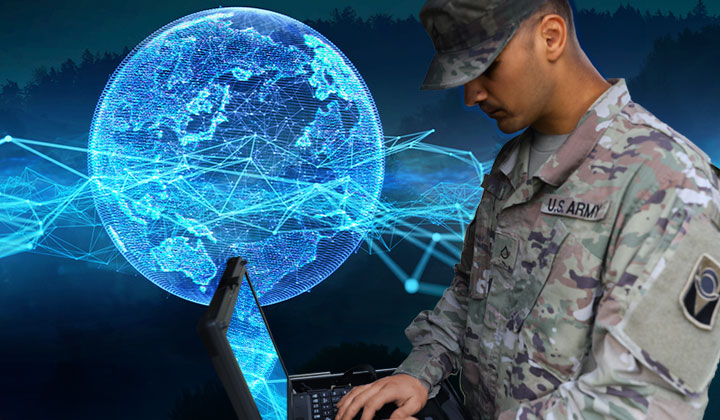 The modern battlefield is a complex and ever-changing environment. To maintain a competitive edge in all domains, the Army is increasingly turning to data-driven, software-enabled solutions that deliver decisive information advantage. Today's Army needs dynamic data fusion and adaptable software solutions at scale that can deliver and maintain superior data insights across the spectrum of conflict and competition.
With information advantage, the Army can reduce costs, achieve true agility, and deliver capabilities by designing, developing, and integrating multi-domain software and data solutions, and leveraging open hardware and software components across systems.
To attain this, the Army needs partners that can provide valuable insights to data across all domains with speed and precision to meet this modernization challenge.

Mission Software Accelerated
For more than two decades, CACI has matured its mission software approach and its ability to deliver successful Combined Joint All Domain Command and Control (CJADC2) solutions for the Army by developing, enhancing, and sustaining mission software efforts for various Department of Defense (DoD) and Intelligence Community customers.
CACI's CJADC2-related engineering past performance working with both Air Force and Navy can strongly benefit the Army. These efforts were focused on process improvement, toolsets, and contracting relationships for software development, testing, and deployment. These approaches provided significant benefits by integrating complex software systems with applications from multiple vendors, managed through DevSecOps and automated continuous integration, continuous development (CI/CD) pipelines with cloud-agnostic infrastructure, such as IaaS and PaaS.
Our Mission Solutions Factory (MSF) is a DevSecOps-at-scale model that holistically integrates and encapsulates all elements of modern software engineering practices including portfolio management, design and development, test, cyber, hybrid cloud, edge computing, data mesh, artificial intelligence and machine learning (AI/ML), and zero trust. Our MSF software factories are vendor-, tool-, and cloud-agnostic and can scale at the speed of mission.

Software as a Superpower
Software is our superpower that enables today's Army and is key to achieving information advantage. As such, we believe that developing and delivering innovative, data-centric software-enabled solutions is crucial to achieve mission objectives and timely data-backed decisions. Secure software-enabled solutions – such as our unique vendor-agnostic open hosting platform – increase situational awareness across all domains, deliver enhanced interoperability, and make data sharing with allies and partners easier.

Agile Mission Software in Action
Since 2016, CACI has helped to modernize the Air Force Distributed Common Ground System (AF DCGS). With a limited budget, CACI delivered a new "modernization through integration" model for the Air Force rather than use its legacy software model. By leveraging 90-day deployments and 30-day fast-track deployments, implementation of the risk management framework (RMF), and the continuous authority to operate (CATO), our AF DCGS team works to centralize control and provide continuity of operations and improved capability to mission commanders with each deployment.
CACI is now applying its experience and past performance in mission software as the lead systems integrator for the Navy's intelligence battle management system, encompassing planning, integration, testing, and deployment.
CACI's track record proves we are uniquely positioned to help the Army achieve its data modernization goals.
Our team of experts has spent decades building up technical and domain experience and a deep understanding of the challenges and opportunities on the modern battlefield.
To learn more about our approach to JADC2, visit: https://www.caci.com/jadc2
| Current Data Environment | CACI Solutions for a Next-Generation Data Environment |
| --- | --- |
| Software maintenance challenges due to an existing hybrid architecture (virtual machines and containers), and monolithic, complex code bases. | Vendor-agnostic, modular, containerized, microservices and open system architectures to develop, deploy, and scale application services independently. |
| Difficulty processing new/large data feeds that prevent data-driven decision making, algorithmic warfare, and effects with speed and precision. | Data-centric artificial intelligence/machine learning (AI/ML) solutions that leverage data management platforms for data aggregation and presentation. |
| Siloed sustainment approach across multiple, completing contracts. | Software sustainment and quality assurance to modernize systems. |
| Reduced interoperability due to proprietary code or limited rights usage. | Improved interoperability through unlimited data rights and open-source solutions to prevent vendor lock. |
| Difficulty adopting new technologies due to significant refactoring or re-architecting. | DevSecOps methodologies to integrate sustainment efforts with modernization. |
| Limited scalability as the entire application must often be redeployed on each instance, limiting warfighting functions. | Cloud-enabled and optimized edge solutions to process modular mission apps on smaller, localized nodes supported by AI/ML. |
This table illustrates what a future data-centric operational environment could look like - contrasted with current challenges.