Trending at CACI
CACI's Maritime C-UAS Solutions – Outsmarting A Growing Threat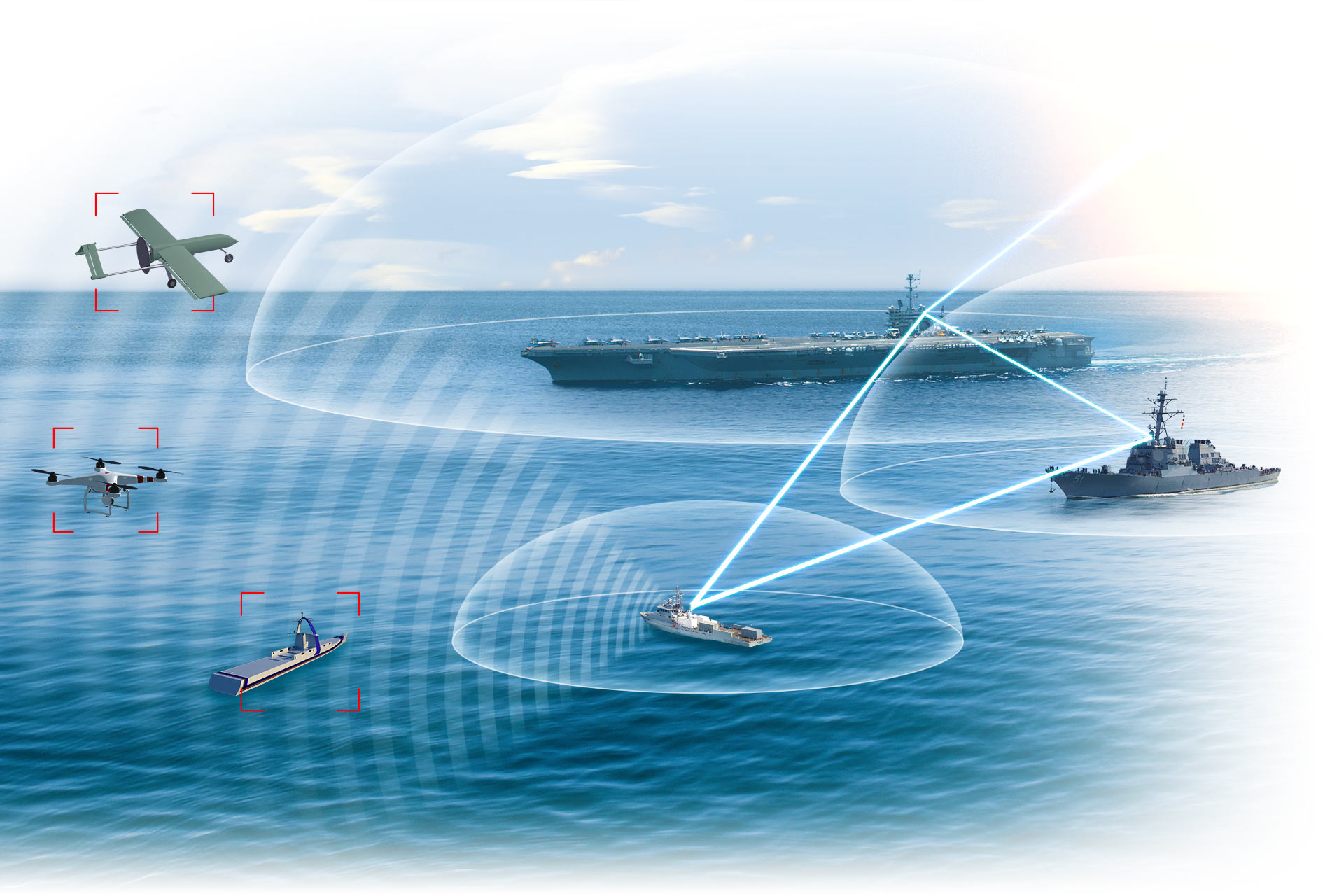 Unmanned aircraft systems (UAS) are one of the fastest proliferated military technologies in the world. Commonly known as drones, UAS have become more sophisticated, easier to use, and equipped with more evolving technologies for tasks ranging from intelligence gathering to kinetic strikes.
UAS have also become adversary tools of choice in recent conflicts, such as the Russia-Ukraine war. There have been numerous instances of UAS used as fire control; intelligence, surveillance, reconnaissance (ISR); and deep strike tools. From near-peer militaries to terrorist groups, UAS have effectively made airpower cheaper, more accessible, easier to control, and more difficult to counter. These trends have raised concerns across the Department of Defense (DoD) and led to the establishment of the DoD Joint Counter Small UAS Office (JCO).
The Maritime Perspective on sUAS
U.S. maritime surface and subsurface forces operate around the globe in vital waterways and at ports of call where they have increasingly encountered small UAS (sUAS) threats. This trend is raising concern with leaders of the U.S. Navy, U.S. Marine Corps, U.S. Coast Guard, merchant marine fleet, and others with equities in the maritime space.
The UAS threat is racing ahead of current defenses and countermeasures in the maritime domain. Hundreds of incursions by sUAS have been recorded in the past few years against U.S. Navy ships operating in controlled airspace around ports and facilities and while at sea. In 2019 off the coast of San Diego, a group of four sUAS swarmed the destroyer USS Paul Hamilton, flashing searchlights at the ship's bow and bridge several times. In 2017 near the port of Hong Kong, U.S. Navy ships were repeatedly harassed by multiple sUAS, with one landing on the starboard side deck of the USS Chafee while it was sailing into port.
These and many other similar incidents underscore the gap in maritime defenses against smaller UAS – while U.S. Navy, U.S. Marine Corps, and U.S. Coast Guard ships feature a range of defenses against manned aircraft, gaps persist in capabilities that effectively target drone threats. Cheap Iranian-made drones in the hands of militaries and non-state actors prompted U.S. Central Command in early 2021 to label the proliferation of small armed drones in the Persian Gulf region as one of the most concerning tactical developments in the theater – on par with improvised explosive devices (IED). On the other side of the world, UAS incursions increasingly concern our Asia-Pacific allies, who see a Chinese naval force that continues to project its influence over the region's waterways and choke points – often using new UAS systems to perform ISR tasks and test defenses.
Our Maritime C-UAS and C-UxS Solutions – Ship to Shore Protection
At CACI, our experts have been analyzing the spectrum of unmanned threats to maritime assets at sea and in port. By leveraging our large and growing signal and threat library, we have developed and deployed more than 700 CACI systems and sensors around the world over the past two decades, investing in and maturing our adaptable SkyTracker Technology Suite of C-UAS systems. This portfolio can be rapidly shaped to operational needs thanks to our modular open-systems approach (MOSA). Our systems can detect, identify, locate, disrupt, degrade, deny, capture, or tip and cue most UAS platforms today – and we continue to add enhancements to target emerging threats.
Across the maritime domain, our solutions support in-port defense concepts of operation (CONOPs) as well as at-sea operations, such as restricted maneuvers and choke point transit challenges. Because of our expertise in open systems and modular C-UAS capability, our technologies interoperate easily between ship and shore.
We have built our maritime C-UAS solutions around three interoperable technologies that provide a range of kinetic and non-kinetic effects and can be readily integrated into shipboard systems and enterprise networks alike:
The Mono-Backpackable Electronic Attack Module (M-BEAM) is the latest iteration of our modular, low size, weight, and power advanced electronic attack system capable of defeating complex sUAS. This advanced mounted, dismounted, or modular technology is the smallest, longest-range electronic attack system on the market. M-BEAM features an intuitive graphic user interface that surveys the environment to enable units to counter digital or analog signals and can operate autonomously to deliver distributed attacks against adversary threats for a rapid, responsive force protection capability.
The CORIAN-FS (fixed site) provides fixed facility protection against unmanned threats in locations such as ports, forward locations, and other vital infrastructures. CORIAN-FS uses precise neutralization techniques to ensure little to no collateral damage to the surrounding radio frequency spectrum and existing communications.
Falcon is a family of C-UAS and electronic warfare (EW) tools that leverages our deep expertise in classified signals intelligence to deliver real-time warning and automated reporting and serves as the cornerstone for our maritime C-UAS solutions. Falcon enhances operational awareness across high-level UAS threat groups and numerous environments. Falcon's capabilities are modular and can integrate into several platforms and systems.
These technologies deliver layered defenses against any UAS threats from sea to shore. In a port scenario, CORIAN can initiate detect, identify, and track operations on a single UAS while working inoperably with BEAM units to determine the UAS's direction and identity. At sea, BEAM and Falcon can collaborate to perform detect, identify, and track operations against an sUAS threat, with the BEAM operator engaging in link-jamming mitigation or creating a safe landing zone for the drone.
With effective interoperability between ship and shore units and seamless command and control integration, decision making in C-UxS scenarios targeting air or surface threats is streamlined – giving operators greater control and range of response.
To learn more about CACI's C-UxS maritime solutions, visit: www.caci.com/skytracker.