Trending at CACI
How Next-Gen ERP Modernizes, Extends the Life of Existing Business Systems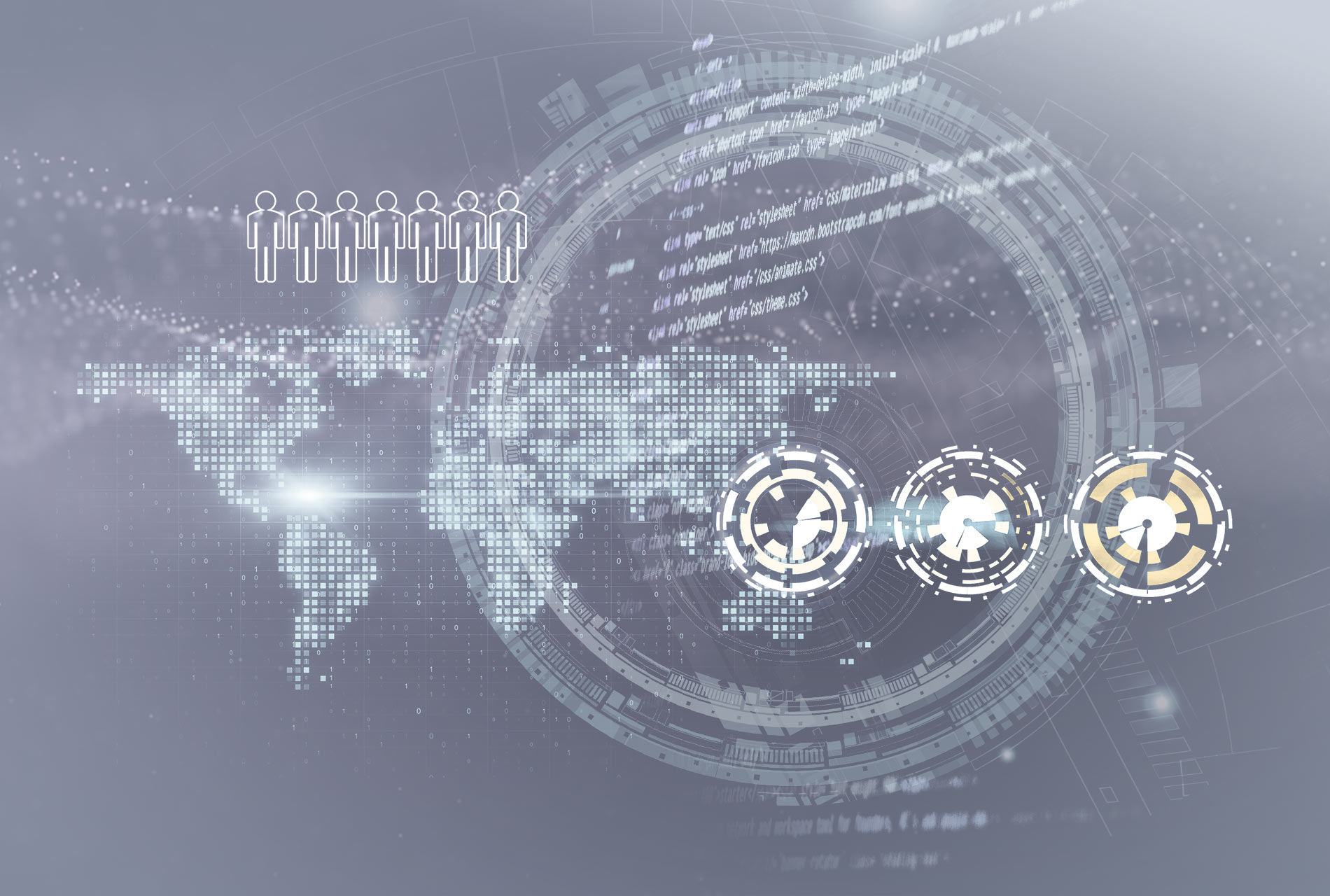 This is the second article in a series focused on Next-Gen ERP. The first article provides an introduction to Next-Gen ERP.
Enterprise Resource Planning (ERP) systems consolidate daily business activities into a single enterprise platform to enhance business reporting, analytics, and decision making while standardizing business processes to yield efficiency gains. However, for the federal government, ERP systems include added layers of regulation and customizations to accommodate unique requirements, which complicate system maintenance and hamper efforts to deliver organizational efficiency gains and cost savings.
Next-Gen ERP will replace the costly, band-aid fixes of customized ERPs with a solution powered by emerging technologies that ensures the government keeps pace with the needs of today's missions. It creates a seamless environment that embraces cloud, artificial intelligence (AI), machine learning (ML), robotic process automation (RPA), and other emerging technologies ensuring the government keeps pace with the speed of technological advancement.
What is Next-Gen ERP?
Next-Gen ERP is not a new ERP platform, but rather a strategy and approach that leverages low-code technology, composable architecture, open-standards integration, and existing ERP solutions to expand the functionality, flexibility, and agility of existing ERP solutions.
Next-Gen ERP delivers the value of an integrated ERP solution with the flexibility to rapidly meet mission requirements without customization. This enables the government to drive digital transformation and build collaborative processes at the speed of the mission.
According to Gartner this "fourth era is a more radical shift — beyond just resources or planning or the enterprise and into a wider ecosystem. That ecosystem encompasses not only customers and suppliers, but also partners, competitors and stakeholders, often with interchangeable roles."
Understand the 4th Era of ERP
Next-Gen ERP Concepts & Benefits
Next-Gen ERP extends ERP functionality through the engagement layer. This is a low-code user interface (UI) that improves usability and augments the ERP system functionality to meet evolving user needs. The ERP executes all the business functionality that fits within the commercial off-the-shelf (COTS) solutions while the engagement layer handles the business requirements that would traditionally require customization.
An orchestration layer supports this engagement layer, bridging the data and processes between the engagement layer and the broader business application ecosystem consisting of the Core ERPs and other specialized mission applications. These layers create a loosely coupled, enterprise-specific abstraction of processes and data, yielding benefits like persona-based user experiences, freedom to introduce and retire applications, and faster business value delivery.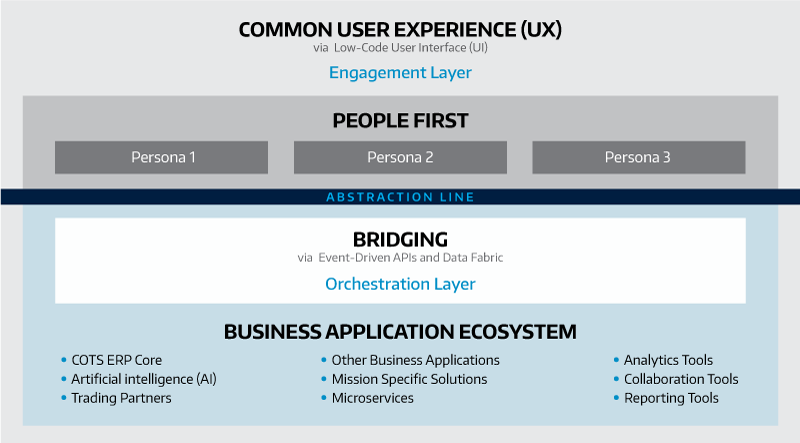 Gartner identified six hallmarks to help organizations capture the benefits of Next-Gen ERP – or what Gartner has coined the fourth era of ERP.
Next-Gen systems must embrace machine learning (ML) and be artificial intelligence (AI)-driven to support today's complex decisions.
They must be data-centric to support the massive amount of information needed for business processes and AI.
They must be consumable. This drives the flexibility and agility the government requires. In a consumable architecture, each component is independent and has its own life cycle.
The speed of today's mission requires us to transition to people-augmented solutions, where business processes are automated and only engage a human when their input is required.
Next-Gen must be enabling and leverage Agile development.
They must be customer-facing and allow business users, customers, and partners to realize the full benefit of the fourth era of Next-Gen ERP solutions.
CACI developed our Next-Gen ERP toolkit with playbook-based best practices to help customers realize the transformational benefits of a Next-Gen ERP model by accelerating the implementation and integration of Next-Gen ERP. This includes the development of an event-driven orchestration layer that provides a highly scalable, robust, fault-tolerant data fabric, which serves as a central hub for the Next-Gen ERP solution, provides centralized integration management, and enables strangler pattern migration.
The Next-Gen ERP toolkit supports hallmarks 3-6 and collectively contribute to the following benefits (see our next article in the series for details of how our toolkit supports hallmarks 1 and 2):
Accelerate Transformational Change
Next-Gen ERP's user engagement layer accelerates transformational change by minimizing change management impacts. The engagement layer provides a dividing line – or abstraction line – that separates the end-user experience from the underlying process and event orchestration layer. It transparently bridges business processes across multiple underlying applications. It mitigates organizational change management (OCM) risk by providing a user-friendly, standard user interface (UI) that enables transformational change while minimizing disruption to day-to-day business processes.
CACI's Next-Gen ERP toolkit facilitates this transformational change for ERPs such as SAP, Oracle EBS, and PeopleSoft. The toolkit includes low-code accelerators and content that allow customers to abstract customizations, maximize portability across solutions, and minimize vendor lock.
Provide a Persona-based UX
CACI's engagement layer employs a "people-first" approach to simplify and streamline the UX for ERP systems, which are challenging to learn and use, and the UIs are typically not intuitive. The low-code UI and the engagement layer hide the complexities of orchestration and delivery of those functions by creating an intuitive, mobile-friendly UX aligned to user needs.
Our toolkit leverages the CACI UX Factory to develop UX assets for user research, design, and usability testing. It deploys UX processes, methodologies, and frameworks for UX design assessments, evaluation, and user roadmaps.
Reduce Redundancy in Business System Ecosystems
Redundancy in business system functionality can slow modernization. Application rationalization is critical to position the organization for the future. Our Next-Gen ERP enterprise approach enables application rationalization and the consolidation or deprecation of duplicative legacy applications and functions through a standardized common UI. The orchestration layer transparently routes requests to the appropriate business system. This consolidates systems and addresses unique legacy application requirements in the engagement layer as capabilities migrate from the "as-is" to "to-be" platforms.
Our toolkit also includes an application rationalization playbook that builds upon the six-step process from the GSA App Rationalization playbook while adding CACI best practices, lessons learned, accelerators, and templates from past successes.
Open API Architecture
CACI's toolkit describes how to leverage Open APIs through asynchronous messaging systems and enterprise integration platforms to build standards-based interfaces based on Open API Architectures between the ERP, third-party applications, and integration partners.
The orchestration layer is the integration hub for the Next-Gen ERP solution and provides a second line of abstraction between the business systems and underlying data sources, eliminating the inherent risks and complexities of point-to-point interfaces.
The federal government and Department of Defense (DoD) need an agile, flexible, and data-driven ERP ecosystem to meet today's mission requirements. CACI's Next-Gen ERP toolkit enables these modernization capabilities through a persona-based UX that avoids customizing the ERP core and an upgrade-safe layer that abstracts existing customizations from the ERP core. Our modular Next-Gen ERP solutions drive true digital transformation for our customers.
Visit our ERP webpage to learn more about how CACI is implementing Next-Gen ERP for the DoD and federal government.