Trending at CACI
An Introduction to Next-Generation ERP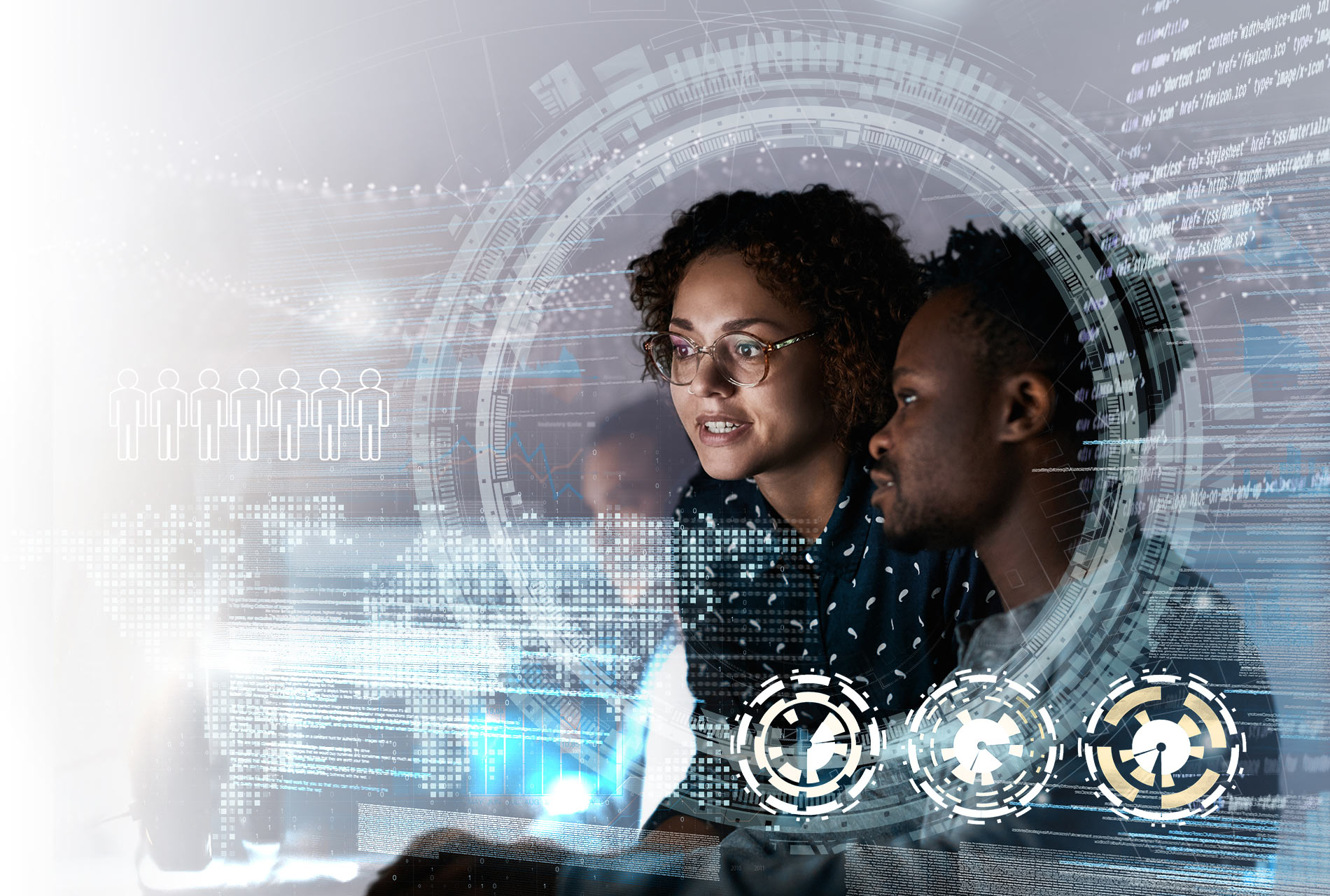 The Modernization Challenge
Enterprise business system modernization has historically been accomplished through large-scale IT projects that often exceed planned costs and rarely achieve the government's desired objectives. The resulting business systems are highly complex and highly customized, nearly eliminating any opportunity for cost savings due to the high cost of maintenance, upgrades, and enhancements for these monolithic systems. Further, these heavily customized solutions hinder customers' ability to migrate to cloud-based infrastructure and cloud-native solutions. Customers struggle to modernize these behemoth systems while achieving cost savings.
Digital transformation is often synonymous with enterprise application modernization, challenging organizations to reimagine how they build and design applications, how applications interact with one another, and, most importantly, how users interact with applications. The concept of nimble, composable architecture, when efficiently structured, can free customers from vendor lock-in, enable the use of best-of-breed applications, and create simple, seamless workflows designed to optimize the end-user experience. For enterprise resource planning (ERP) customers, we collectively refer to this type of digital transformation as "Next-Generation (Next-Gen) ERP."
What is Next-Generation ERP?
Next-Gen ERP is a modernized approach that enables organizations to realize the benefits of an integrated ERP solution with the flexibility and agility required to meet mission requirements. It does this by integrating composable architectures, microservices, third-party commercial off-the-shelf (COTS) products, and low-code development with the ERP platforms.
Next-Gen ERP is business driven, rather than IT driven. The focus is on the persona of each user and how to make systems work for them, rather than forcing the business processes to change to align with the requirements of the technology. The advancement of low-code/no-code development platforms, open architectures, and optimized integration capabilities enable the construction of composable technology stacks to create this agility. Further, a best-of-breed approach to constructing a composable technology stack avoids vendor lock and saves resources.
At its core, Next-Gen ERP reimagines and refocuses how business applications are implemented and enhanced. CACI's approach focuses on three primary pillars: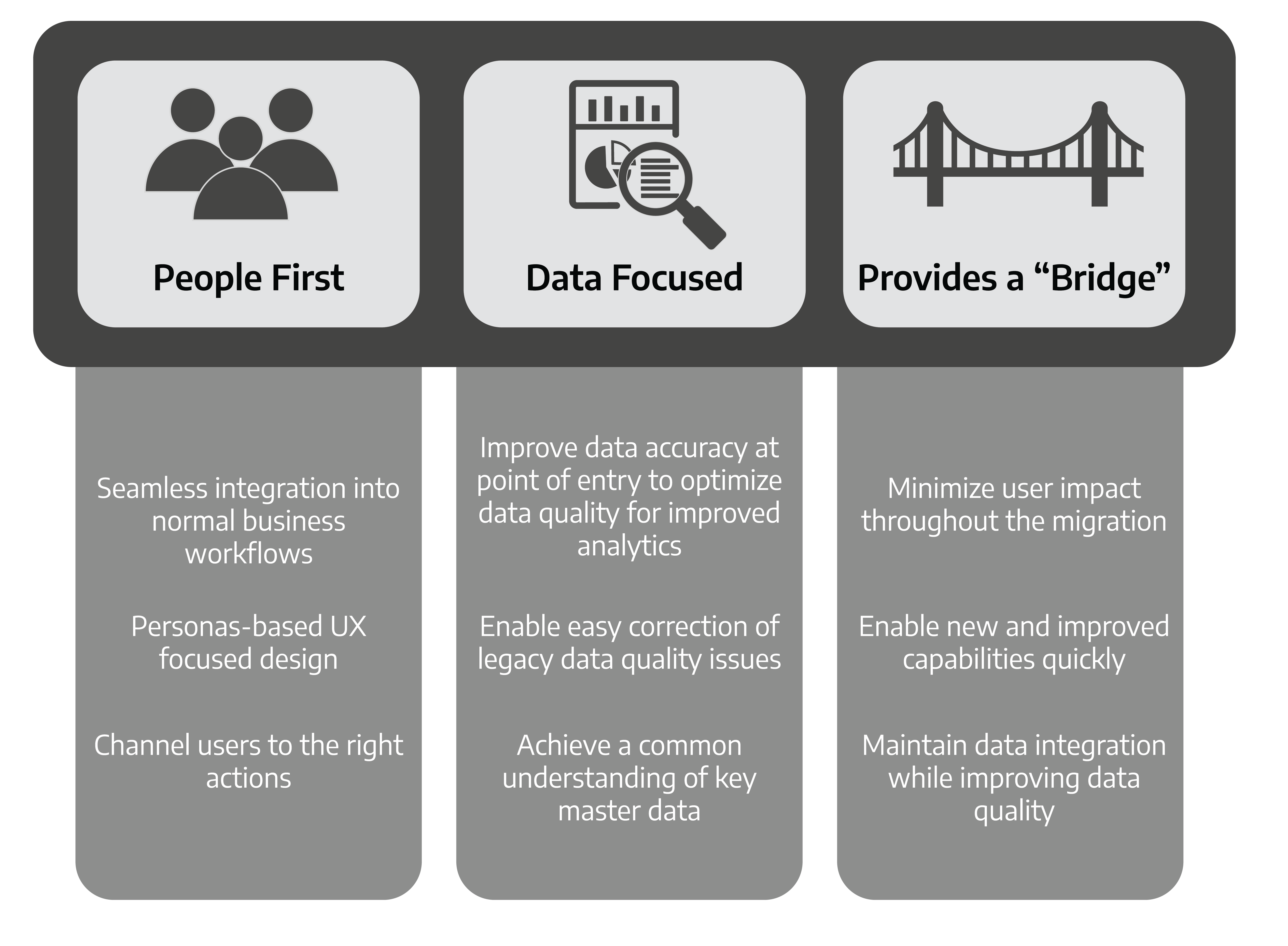 People First Design: Enabling your user community for success with a user experience that provides support and delivers continual improvement – all with little to no formal training required.
Data Focused: Advancement in technology is forcing organizations to reexamine how they manage data. According to Gartner, "Data management agility has become a mission-critical priority for organizations in an increasingly diverse, distributed, and complex environment. To reduce human errors and overall costs, data and analytics leaders need to look beyond traditional data management practices and shift toward modern solutions like AI-enabled data integration."
Bridging: Provide a bridge between multiple legacy systems and the desired future state by delivering an architecture that is flexible enough to accommodate changing business requirements and mission requirements while isolating processes and partners from organizational change risks.
The journey to Next-Gen ERP is not just about technology. Next-Gen ERP will be UX-focused and driven by the business and the user communities.
The velocity and dynamic nature of the missions ERPs support have also changed. The government requires an enterprise platform flexible enough to meet the dynamic mission requirements, keep pace with the evolution of technology, and take advantage of the benefits of modern architectures throughout the life cycle of the system. This requires a level of agility that legacy ERP platforms can no longer provide. CACI enables our customers to move forward on their digital transformation journeys by delivering more integrated and iterative approaches to legacy system modernization and software and application design, coupled with intelligent, responsive architectures. Next-Gen ERP changes how we implement, enhance, and manage enterprise business systems.
To learn more about CACI's ERP solutions, visit us at https://www.caci.com/erp