Trending at CACI
Lighting the Future: How CACI is Revolutionizing Optical and Photonic Solutions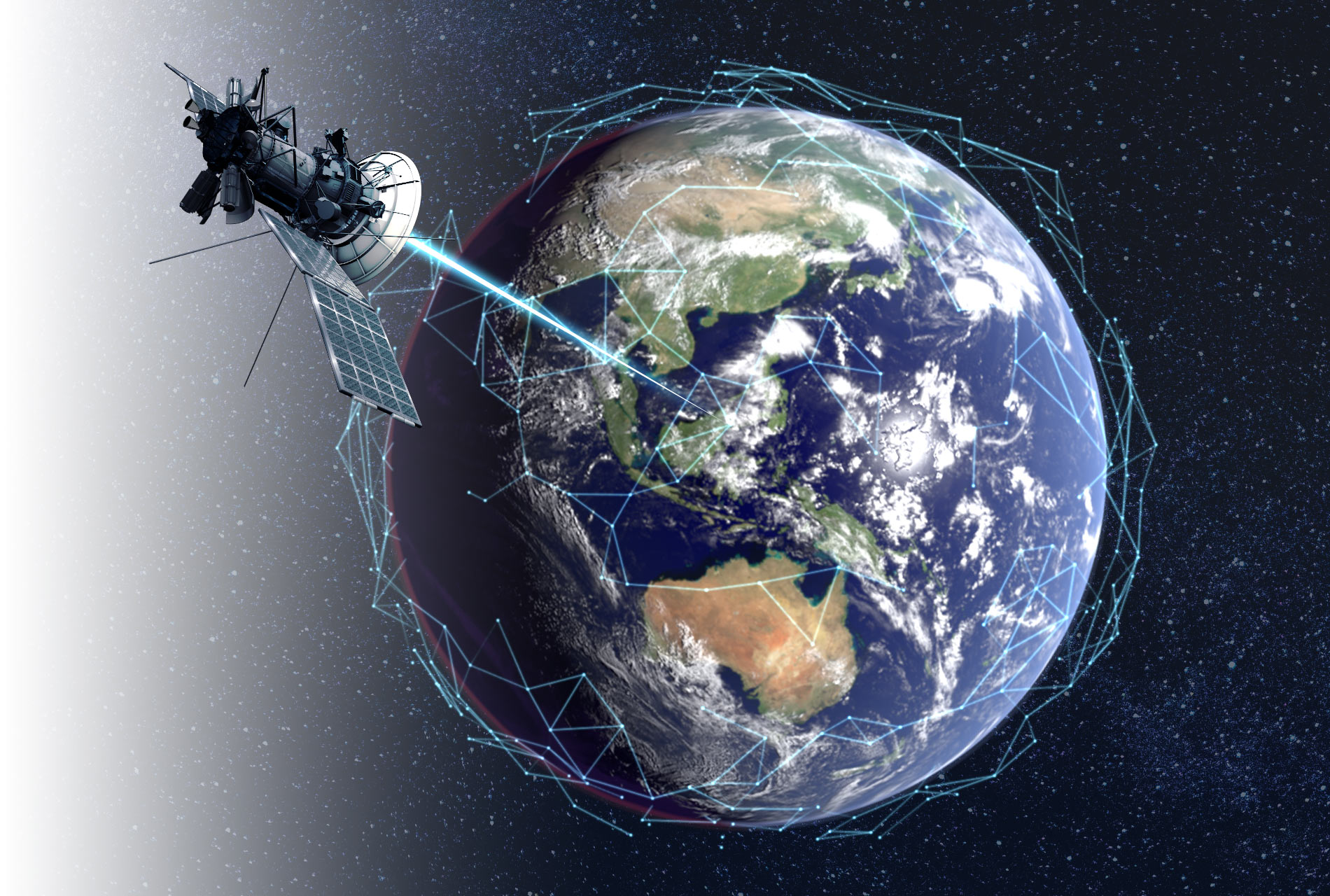 With decades of investment and research, CACI has built up deep expertise, capacity, and scale in a technology field that is becoming critical to national security – free space optical (FSO) communications and optical solutions.
Our optical solutions physicists, material scientists, engineers, and other dedicated staff are pioneers in these high-performance technologies, having worked on space-based FSO national security applications for the U.S. government for more than two decades. Today, CACI is an industry leader in this field as FSO technology grows in relevance. From defense to intelligence, numerous national security missions require secure, reliable, and high throughput communications.
Photonics technology uses light instead of radio frequency (RF) communications to link space assets like satellites and NASA's deep space probes faster, more securely, and with greater capacity to transmit large volumes of data. Using lasers rather than RF allows customers to more precisely "target" the receiver. This makes communications across vast distances of space more efficient and cost-effective than RF. Optical technology also enables the transmission of larger volumes of data from one platform to another more swiftly. Our FSO communication technology is low-size, weight, and power (SWaP) and can send data 25 times faster than RF systems. Due to surging demand and market growth surrounding laser communications, our photonics solutions team is working hard to deliver the next generation of optical capabilities for land, air, and space missions.
By enhancing CACI's expertise and expanding our development and manufacturing capacity over the past several years, our advances in FSO, remote optical sensing, and optical processing technologies have helped increase communication efficiency for space platforms through dynamic tradeoffs between range and bandwidth. Technologies like high-power optical amplifiers, laser transmitting and receiving hardware, chip-scale photonics devices, and other innovations provide significant advantages for our national security customers and help solve some of the toughest communication, sensing, signals intelligence (SIGINT), and radar applications.
Leading in Photonics Innovation
FSO technologies will play an important role in all-domain communications, satellite support, and airborne and land-based optical communication capabilities, and it is why we continue to make strategic investments and acquisitions in this technology field. In December 2021, CACI acquired the California-based firm SA Photonics to further enhance its portfolio for optical space communications and high-end crewed flight programs. This added a range of low-earth orbit (LEO) capabilities to our range of technologies that complement our proven geostationary orbit (GEO) solutions.
Today, CACI is one of the largest U.S.-based manufacturers of national security photonics and optical technologies, with three major facilities in California, New Jersey, and Florida – where our newest 13,000-square-foot manufacturing and testing facility opened in Orlando in June 2022. Our new team members from SA Photonics and our new Orlando facility have allowed us to grow our collective experience in mechanical and optical design, control systems, and testing, and given us the manufacturing footprint to accelerate vital new work in FSO communications amplifiers, modems, and terminals.
Our team continues making advances in remote optical sensor technology such as light detection and ranging (LiDAR) systems – where pulsed laser light measures range and makes digital representations of surfaces. LiDAR is a sought-after capability for intelligence, surveillance, and reconnaissance (ISR) tasks like long-range object identification and wide-area surveillance. CACI is now transitioning this capability from one-of-a-kind sensors to widespread mission applications. Our team is also developing new processing applications that leverage photonics technology by providing broadband, real-time sensing, and analysis of the RF spectrum. Our solutions can perform wideband processing not possible in either RF analog or digital format by using terahertz of bandwidth available on our optical solutions. These capabilities play an important role in coding and decoding the advanced algorithms needed to support space operations and deep space exploration.
Building Technology that Makes a Difference
Today, CACI is making real advances in optical technologies for national security missions and the federal government civilian sector. For NASA, we support several space modem production programs for efforts such as the Deep Space Optical Communication program (DSOC), which will return high-speed data from deep space directly to earth to study objects in the asteroid belt of our solar system. CACI also supports the Integrated Low-Earth-Orbit (LEO) User Modem and Amplifier Terminal (ILLUMA-T) program, which enables the transmission of data from the International Space Station in LEO to the ground and back using a laser communications relay demonstration. Our work on the Optical-to-Orion (O2O) program will deliver broadband communication to and from the crewed Orion spacecraft during transit and while in lunar orbit.
In May 2022, CACI announced its CrossBeam® FSO terminal starred in a successful on-orbit test for the Defense Advanced Research Projects Agency (DARPA) and Space Development Agency (SDA) Mandrake 2 program. The program is an effort to evaluate the pointing, acquisition, and tracking algorithms for high-speed communications links in the upcoming DARPA Blackjack and SDA Transport and Tracking Layer constellations. CrossBeam terminals in orbit established optical inter-satellite links (OISLs) during a 40-minute test in April 2022, demonstrating closed-loop tracking and saw more than 200 gigabits of data transmitted and received. The test was the first step in establishing more secure, space-based communications networks for the Department of Defense (DoD) and defense agencies. As of February 2023, CrossBeam FSO terminals have been in orbit for more than a year and a half and continue supporting successful high-speed communication link demonstrations.
CACI is also a phase 1 awardee for DARPA's Space-Based Adaptive Communications Node (Space-BACN) TA1 program – where our FSO experts are working to develop a flexible, low SWaP optical aperture that can couple into a single-mode fiber. This program facilitates DARPA's plan to develop a system capable of enabling disconnected LEO satellite constellations to communicate seamlessly with one another and foster interoperability between U.S. Government and commercial satellites.
Looking to the Future
Our advances in photonics and laser communications are rightly viewed as breakthrough difference makers for the multi-domain mission demands of today's environment, as our customers look to utilizing FSO technology for air-to-air, air-to-ground, air-to-satellite, satellite-to-satellite, satellite-to-ground, and air-to-sea bi-directional communications links. With demand increasing, laser communications are on track to becoming a routine part of the U.S. Government's space-based infrastructure soon.
By building on our decades of expertise in this growing field, capitalizing on investments, and delivering new, advanced technology for space, airborne, and ground systems, CACI's reputation as a leader in U.S.-based national security will only grow as our customers achieve greater results.