Trending at CACI
Building the Cyber Range of the Future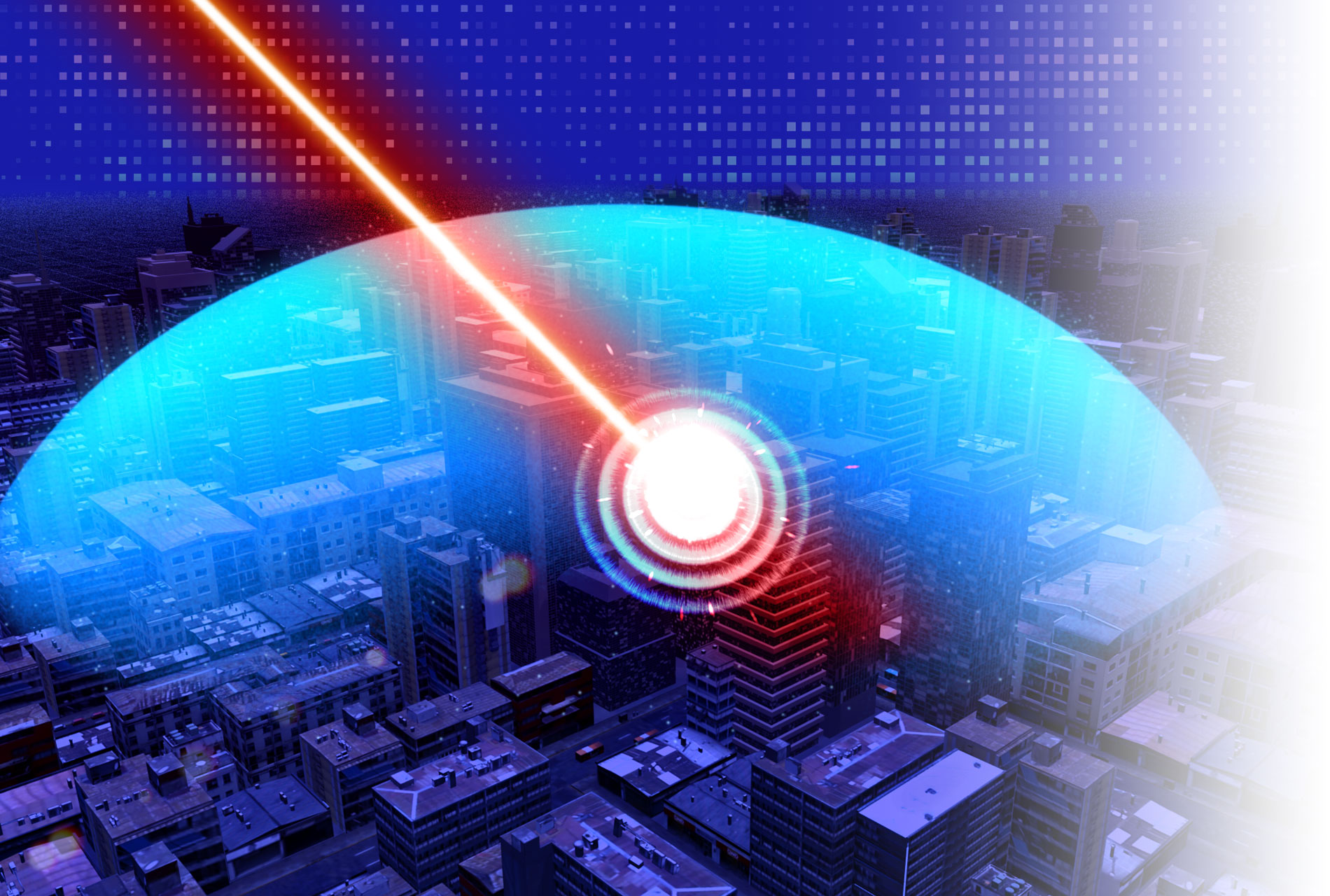 Individual, government, and military users all depend on the complex digital and cyber domain for the operation of critical infrastructure that supports our national security.
However, cyberthreats go hand in hand with our digital lives. Breaches and attacks are in the news daily, ripped from the headlines but hitting close to home more than ever. For the government and military, defending mission networks, protecting our critical infrastructure, and executing national security missions depend on the integrity of the systems, networks, and data we rely on. But these systems – including pipelines, power grids, and water treatment plants – are only as resilient as the users and network defenders who operate them.
Constructing City Block Brick by Brick
CACI engineers, using industrial control systems and operational technology (ICS/OT), designed unique digital environments for military and government users to conduct modeling and simulations with the tools needed to operate and protect our critical systems against cyberattacks. They started by building models of a city block and a military base using children's plastic building bricks and incorporating ICS/OT hardware and software that emulated real-world operations. This concept helped visualize real-world applications for cyber tools.
What started as a project with mostly open-source software and plastic brick toy models evolved into a complete control systems cyber range offering a gaming environment to conduct vulnerability assessments; test offensive and defense cyber effects; and evaluate supply chain risk management within supervisory control and data acquisition (SCADA) IT protocols. The project became officially named "City Block" and it provides realistic visualizations of the systems controlled by ICS/OT to help our nation protect critical infrastructure.
"Applications for this technology made sense when we overlayed the value of the digital engineering environment with the volumes of data that our military and government are already dealing with. This will become infinitely more critical as we transition into 5G," said Scott Thompson, a CACI engineer leading a team of developers creating this capability. "The complexity of those systems will increase exponentially, and digital twins will be the best way to develop real-time insights to mitigate threats."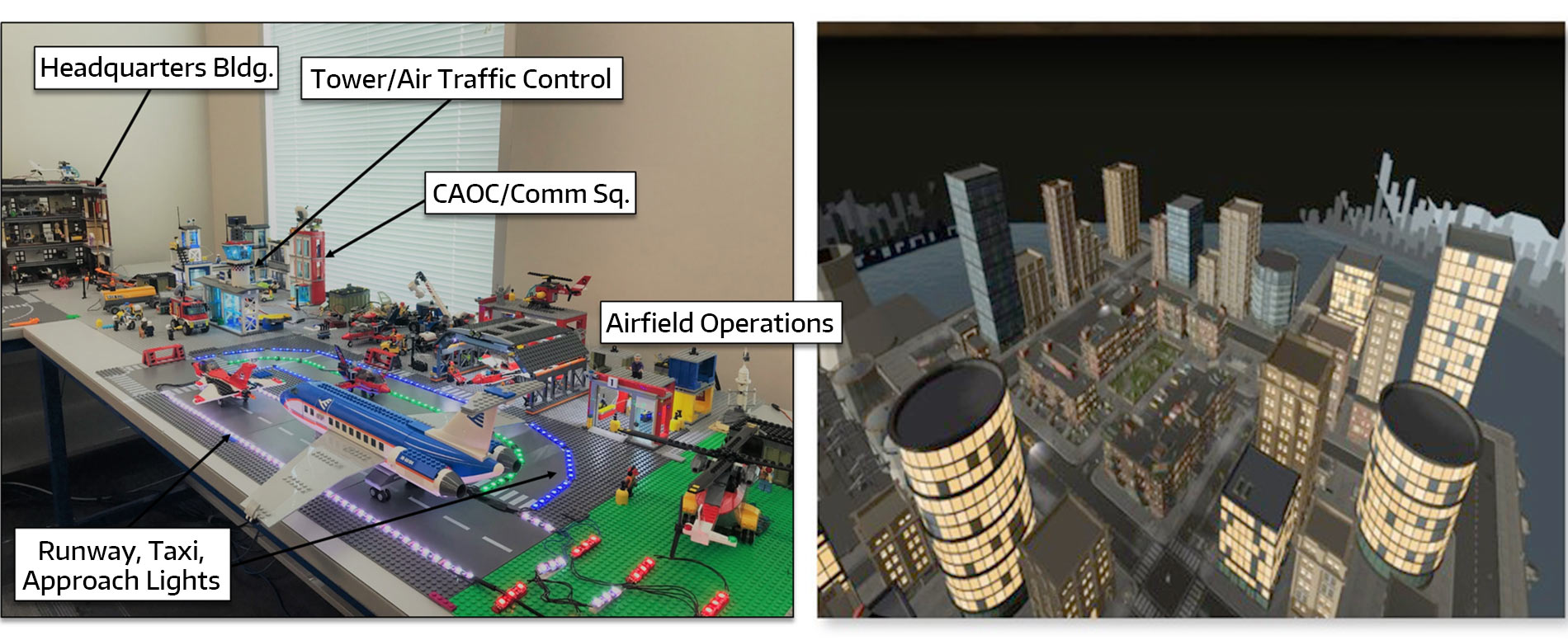 Building Bridges
The team worked together with CACI's immersive multimedia/mixed reality (IM2R) lab to incorporate virtual and augmented reality (VR/AR) based on existing national security projects for programs that require immersive visual environments. They incorporated a Unity game engine model to create the first environment as a literal city block. IM2R built the visualization that communicated with City Block's ICS/OT environment and controlled traffic lights, streetlights, and electrical infrastructure on a simulated city street. As needs evolved, the team created a forward operating base and the critical infrastructure that keeps the base running. The base features a working fuel farm, waterworks, emergency generators, traffic lights, fire suppression systems, and a base-wide security system.
"Collaborating really helped us see things from different angles and drove us to use the Unity game engine. Working in a team across CACI departments was an exciting way to bring in new ideas," Thompson said.
Pushing Boundaries
The team created a software-based visualization for ICS/OT that generates numerous benefits for users to leverage digital/virtual modeling for simulating mission environments and scenarios. By using digital twins – a virtual representation of a physical system or process – to host ICS/OT environments, building and maintenance costs are eliminated while offering scalability since users are not limited by physical limitations or resources. In addition, because the City Block visualization is software-based, it can be pushed over the internet or over classified DoD networks to anywhere in the world.
The digital environment also reimagines how data informs insights, decisions, and actions. Digital twins can handle massive amounts of data in real time, bridging the gap from physical siloes and offering deeper understanding of outcomes. City Block is capable of supporting missions at scale, and in complex environments such as JADC2, interoperating with systems and directly contributing to modernization and transformation strategies.
In addition, CACI engineers can use real-time simulators connected to ICS/OT devices to provide high-fidelity mathematic models of diesel engines, HVAC systems, and electrical power grids when needed – helping to measure second- and third-order effects of cyberattacks against ICS/OT systems.
Looking ahead and investing in the future needs for these simulations, City Block engineers are building a replay capability and experimenting with high-level architecture and distributed interactive simulation standards for exchanging data with other DoD modeling and simulation environments. This means that as the multi-domain digital environment continues to permeate our global systems, protection and resiliency can be built on a city block.