CACI Mourns the Loss of Executive Chairman and Chairman of Board Dr. J.P. (Jack) London
1937 – 2021
Business Leader and Visionary Entrepreneur
In Dr. J. Phillip (Jack) London's 49 years of senior leadership at CACI, he served as President and Chief Executive Officer (1984-2007), was named Chairman of the Board (1990), and became Executive Chairman and Chairman of the Board (2007- 2021). As a business leader and visionary entrepreneur, he was an incredible driving force in transforming CACI from a small consulting firm into a multinational information technology company with more than $5.7 billion in revenue.
Jack London first learned computer technology during his active duty with the U.S. Navy (1959-1971). He learned early computer programming languages and applied this knowledge to naval operations research and logistics.
In 1972, shortly after entering the commercial world, CACI called to enlist him to help write a proposal using computer technology to support Navy logistics. They won the contract, and Dr. London was asked to manage the program. He was CACI's 35th employee.
Soon, he was expanding this business and became a company leader. He advanced to vice president in 1976, was elected to CACI's Board of Directors in 1981, and by 1982 was a division president, managing CACI's extensive work in systems engineering, logistic sciences, and advanced information systems.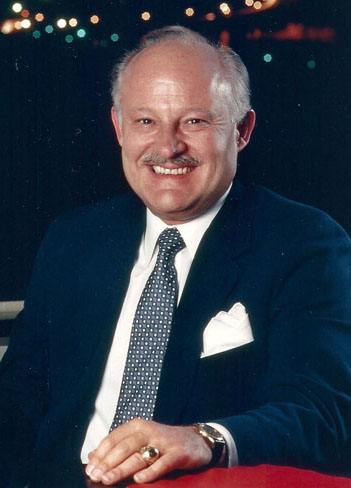 Jack London as CACI President and CEO in 1985.
In 1984, CACI co-founder Herb Karr asked Dr. London to take over leadership of day-to-day operations as President and CEO. At the time, 90% of CACI's revenue came from sole-source contracts in which the company won business through current customers.
But the Competition in Contracting Act (CICA) of that year made sole-source contracts virtually against the law, threatening to put CACI out of business. Dr. London accepted Karr's offer and, in response to CICA, built a competitive marketing and bidding organization that, in short order, returned CACI to profitability.
It was also around this time that Dr. London created a robust awards and recognition program for CACI employees. These culminated in annual awards ceremonies at remarkable local venues, where he gave keynote speeches recognizing employee excellence.
He attended more than 30 such celebrations over the years and regarded employee recognition as critical to company success. "Always take time to reward good performance," he would say, "you can always use more of it!"
Mr. Karr passed away in 1990, and Dr. London was named Chairman of Board, a position he would hold for the next 31 years.
Dr. London's next step was to reposition the company from professional services to information technology solutions and services. This would focus the company on his customers' demands for networked applications enterprise-wide connectivity. Moreover, he had the vision to see that real growth can come not only from within companies, but from mergers and acquisitions (M&A).
So in 1992, he launched CACI's M&A program to gain network expertise and new capabilities. By 1995, CACI was well regarded as a premier provider of network solutions and services.
CACI's entry into the intelligence market is another example of Dr. London's keen ability to watch the trend lines and deploy M&A. Seeing the federal government's growing need to safeguard the nation, he spearheaded the acquisition of QuesTech, an intelligence and information assurance company, in 1998. "It was a defining moment," he said later – words which would prove prophetic after the September 11, 2001 attacks on the World Trade Center and the Pentagon.
Led by Dr. London in the aftermath of 9/11, CACI continually added people, expertise, and solutions, with the goal of advancing its customers national security capabilities. Soon, CACI would be known as a premier provider of solutions for the Intelligence Community, DoD intelligence organizations, and the Department of Homeland Security.
Assuming the role of Executive Chairman in 2007, Dr. London oversaw strategic initiatives to ensure shareholder value, cultivate customer relationships, and monitor major financial transactions. He had an established role as a public figure representing CACI to customers and the federal IT industry.
A prolific author as well as a business leader, in 2013, he wrote Character: The Ultimate Success Factor, detailing his personal and professional experiences, as well as historical examples, of character-driven success. He donated all the royalties to the wounded warrior organization CAUSE (Comfort for America's Uniformed Services), and received national recognition as a champion of ethics, integrity, and good character.
As CACI continued to grow, in 2018, President and CEO Ken Asbury and Chief Operating Officer John Mengucci undertook a new initiative to create a shared services center (SSC) as a way to bring centralized, state-of-the-art resources and expertise to CACI's business operations.
Located in Oklahoma City, the SSC was named in Dr. London's honor – as both an Oklahoma City native, and as an outstanding business leader whose innovation, vision, and business acumen had guided CACI's success.
In all he did, Jack London exemplified a patriotic devotion to our nation, a firm commitment to serving customers with ethics and excellence, and a fierce dedication to CACI employees as the heroes of CACI's success.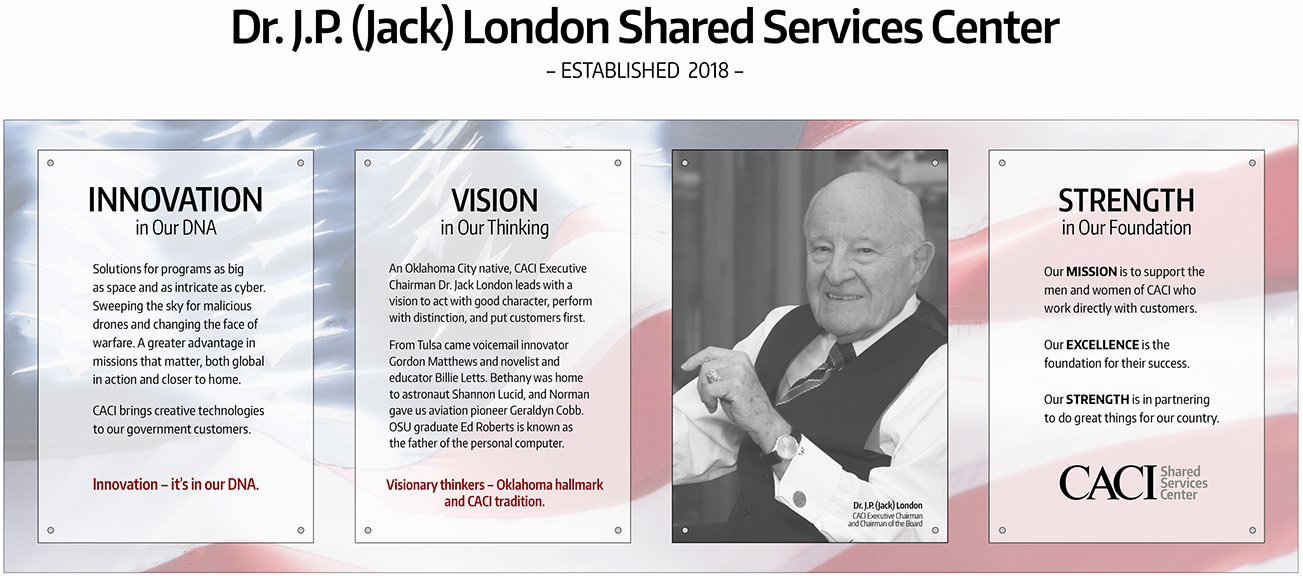 After writing Character: The Ultimate Success Factor, Dr. London shared his thoughts with CACI employees across the company in "character conversations" across the company.
Good Character: CACI's and Jack London's Ultimate Success Factor
In his book, Character: The Ultimate Success Factor, Jack London wrote:
"The foundation for any worthy development, progress or success is character – your character. Character is a statement about your moral and ethical qualities – what you believe in, what you stand for, and what you expect of yourself and others. How you act on these qualities is your statement of character. Character will determine how far you will go and if you succeed or fail."
A nationally recognized authority on organizational ethics, Dr. London was honored by the HR Leadership Awards of Greater Washington with the establishment of its Ethics in Business Award in his name. In 2014, he was named by the Ethisphere Institute as one of the Most Influential People in Business Ethics. He delivered talks and lectures around the country and championed his message in the media.
At CACI, he created a lasting corporate culture of ethics, integrity, excellence, and innovation – which we define as good character. It is a culture embraced by every CACI employee to this day, as we remain firmly committed to always doing the right thing for our customers, our partners, our shareholders, and each other.
So strongly did Dr. London believe that good character was the foundation for CACI's success that he eagerly served as its ambassador to CACI employees. From 2013 to 2017, he personally visited 34 CACI sites and met with approximately 3,000 employees to share stories and conversations on what good character means for them and the work they do.
In Character, he explained his belief in the role of an ethical culture in corporate success:
A couple of years ago, I gave a speech … I said: 'No company or organization can thrive, no small business can grow into a big business, without first knowing who you are. If I have learned one thing in my nearly four decades of government contracting, it is this: Without a solid, ethical, accountable corporate culture, you will not succeed (continue to grow and be respected).' "
And in an oral history he provided to the Computer History Museum , Dr. London aptly described a strong culture's effect on individuals:
"Culture is how you view the customer, how you view and respect each other; culture includes that while money and what we get paid is important, we have an obligation to earn what we get paid and we have an obligation to come to work when we're supposed to. Culture has to do with how we treat each other and how we treat the customers, what we think of our work, our respect we have for our work. That's culture."
For Love of Country
Jack London was appointed to the Naval Academy, graduating (1959) with a Bachelor of Science in naval engineering. He graduated from Naval Postgraduate School (1967), with a Master of Science in operations research.
In his 12 years of active duty as a regular officer (1959-1971) during the Cold War, he initially served as a naval aviator and carrier pilot with U.S. Navy "hunter-killer" task forces arrayed against the Soviet Union's strategic nuclear submarine threat. He saw service in the Cuban Missile Crisis (the "thirteen days" of October and November of 1962), and his numerous at-sea deployments included the North Atlantic, the Mediterranean, and the Caribbean.
He was with the airborne recovery team for Col. John Glenn's Mercury Program space flight in Friendship 7 in the Caribbean, on February 20, 1962, on the USS Randolph (CVS-15). At the height of the Vietnam War, he served as Aide and Administrative Assistant to the Vice Chief of the Naval Material Command, Department of the Navy (1969-70).
He left active duty in 1971 and joined the U.S. Navy Reserve, where his roles included serving as commanding officer of aeronautical engineering units with the Naval Air Systems Command, Washington, D.C. He retired as Captain in 1983.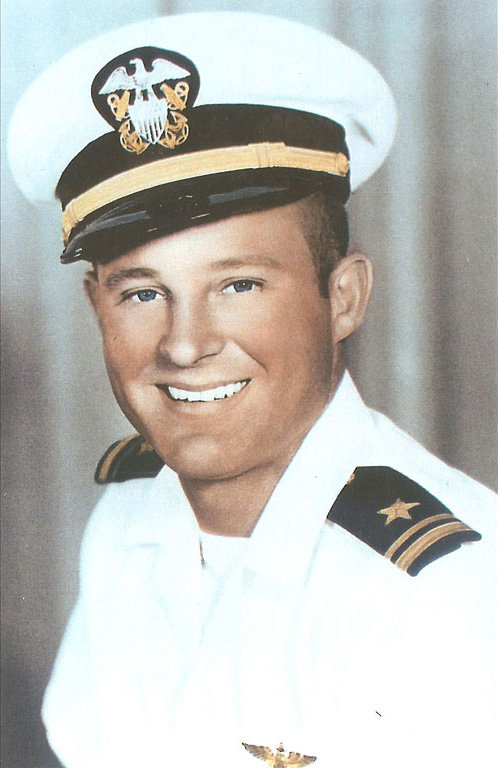 Captain J. Phillip London, USN,
in his days after graduating from
the U.S. Naval Academy.
Of his time in the U.S. Navy, Dr. London said:
"The people that I worked with were high-integrity, four-star admirals that were the best of the Greatest Generation. I saw what real leadership was all about. There was an attribute that they tended to share — the ability to commit themselves to some kind of activity and not think of necessarily what will happen to them. They had an emotional capability to detach. They were willing to do the right thing and make a commitment to it, even if it caused them some unfortunate backlash or problem."
Dr. London created the Captain Samuel Nicholson Naval and Marine Corps History and Leadership Award in 2014. Here he is presenting the 2015 award to Midshipman Peter McGee
Community Service
Dr. London supported the U.S. Naval Academy with awards and recognition for outstanding midshipmen. He created the Captain Samuel Nicholson Naval and Marine Corps History and Leadership Award in 2014 to honor a graduating Naval Academy midshipman, and for several years hosted luncheon talks with midshipmen to share his experience and inspire them to excellence in serving our nation.
Awards and Honors
Education
George Washington University School of Government and Business Administration Alumni of the Year Award (1987)
George Washington University Alumni Achievement Award (1996)
George Washington University Executive MBA Program CEO of the Year Award (2003)
Patriotic Support of America's Defense
John W. Dixon Award from the Association of the United States Army (2003)
Albert Einstein Award for Technology Achievement in the Defense Fields (2004)
Fleet Admiral Chester W. Nimitz Award from the U.S. Navy League (2007)
Naval Postgraduate School Hall of Fame from the U.S. Naval Academy (2011)
Nathan Hale Award from the Reserve Officers Association (2013)
Admiral of the Navy George Dewey Award from the Naval Order of the U.S. (2013)
Semper Fidelis Award from the U.S. Marine Corps Scholarship Foundation (2014)
Leadership in Technology Award from the U.S. Navy League (2016)
Distinguished Service Award from the Naval Historical Foundation (2017)
Meritorious Citation from the U.S. Navy League (2018)
Distinguished Graduate Award from the U.S. Naval Academy (2019)
U.S. Navy Memorial Lone Sailor Award (2019)
Business Leadership
High Tech Entrepreneur Award from KPMG Peat Marwick (1995)
U.S. Newcomen Society recognition (2001)
Outstanding Corporate Growth Award from the Association for Corporate Growth, Washington, D.C. chapter (2002)
Entrepreneur of the Year for Government IT Services from Ernst & Young (2003)
Federal 100 and Eagle Awards from Federal Computer Week (2004)
Earle C. Williams Leadership in Technology Award from the Northern Virginia Technology Council (2004)
Technology Executive of the Year from the Arlington, Virginia Chamber of Commerce (2004)
Executive of the Year from the Greater Washington Government Contractor Awards (2005)
Lifetime Achievement Award from the Association for Corporate Growth, National Capital chapter (2008)
Federal IT Power 50 from Bisnow (2009)
Washington Business Hall of Fame (2010)
Arlington, Virginia Chamber of Commerce Business Hall of Fame (2011)
Greater Washington Government Contractor Awards Hall of Fame (2012)
Corporate Leadership Award from the TechAmerica Foundation (2014)
Wash100 from Executive Mosaic (2015)
Lifetime Distinguished Service Award from the Northern Virginia Chamber of Commerce (2016)
Memberships and Societies
Elected to the COSMOS Club (1996)
100th President of the District of Columbia, Society of the Sons of the American Revolution (1998-2000)
Member of the Massachusetts Society of the Cincinnati, received the Cincinnatus Foundation's inaugural Cornerstone of Freedom Award (2009)
Member of the Scottish Rite of Free Masonry (32°) and K.C.C.H.
Member of the Saint Andrew's Society of the District of Columbia
Former Governor of the Society of Colonial Wars in the District of Columbia
Family
Dr. London is survived by his wife, Dr. Jennifer Burkhart London, and their sons Jackson, Jayson, and Jonathon London; J. Phillip London, Jr. and Laura McLain London; and five grandsons and one granddaughter.