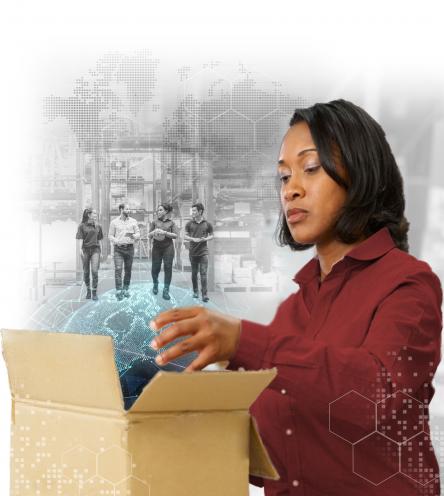 Supply Chain
Organizations need their supply chains to be efficient, reliable, and as dynamic as the missions they support. CACI's approach to managing our supply chain is built upon the same expertise and technology in supply chain management that we offer our customers. We bring modernization and agility by leveraging our expertise in automated agile processes, advanced analytics, and operations dashboards to create efficiencies and meet our high standards of operation across all supply chain functions.
CACI maintains the highest standards of ethical business practices in our supplier partnerships – valuing diversity and an equal commitment to ethics throughout our supply chain.
CACI has a successful history of developing long-term, mutually beneficial partnerships with our valued suppliers. If you are interested in becoming a supplier, please join the CACI Supplier Network by accessing our Supplier Portal. The following steps will help prepare you to engage the appropriate CACI business segment:
Do your homework to understand how your products and/or services complement CACI's core capabilities and identify a few target businesses, opportunities, or programs.
Work with CACI's Small Business Advocacy Office (SBAO) to determine areas of interest and best fit.
Attend CACI Small Business Open House events (visit our Small Business Partnership page for current schedule of events).
Review supplier resources and training on the Supplier Portal.

As an expertise and technology provider, procurement's principal role is to ensure timely end-to-end support and delivery of products and services that meet the critical supply chain needs of our national security and enterprise modernization clients. To achieve that end, we employ automated agile processes and predictive analytics, and most importantly, we leverage strategic partnerships with our diverse supplier base that is predominantly comprised of small businesses.
Our policies, procedures, and governance model conform to the ethical, social, and business conduct standards of CACI. Combined, they provide the framework that addresses how the organization manages its resources, interacts with suppliers, and defines the business practices that guide the decisions and actions of all procurement personnel.
To ensure our personnel are adequately trained and equipped to support a myriad of diverse program needs, CACI has invested in a robust supply chain training program that includes formal classroom courses, seminars, mentoring, and on-the-job training. More than 50 courses are offered annually, focusing on improving program-level support and procurement effectiveness through increased customer engagement.
Approach and Sourcing Methodology
Our approach to assembling highly effective subcontract teams and maximizing small business participation is to partner with companies that are technically sound and socially responsible, and that share our core values and strong commitment to delivering high quality products and solutions. Our sourcing methodology is largely centered around the competitive acquisition process that affords a broad spectrum of both large, small, equal opportunity, and socio-economically diverse suppliers to fill positions and participate as team members in support of the important work we do for our national security customers.
Ethics and Business Conduct
Procurement continually strives to deliver focused support, with an emphasis on responsiveness to our customer community without compromising compliance, ethics, and integrity. CACI has a long-standing commitment to the ethical principles and practices in our business conduct that are reinforced with all employees in CACI's Standards of Ethics and Business Conduct. We look to partner with suppliers that share our values and that agree to adhere to the same high ethical standards expressed in our Supplier Code of Conduct to include maintaining a workforce environment that:
Provides equal opportunity to all its employees without regard to their race, color, creed, religion, gender, age, national origin, citizenship status, sexual orientation, physical or mental disability, marital, or veteran status, or any other protected status.
Is free from all forms of discrimination and harassment, including sexual harassment.
Protects the health and safety of its employees and complies with all federal, state, and local health and safety laws and regulations.
CACI maintains a Defense Contract Management Agency (DCMA)-approved purchasing system and adheres to all the requirements prescribed under the Federal Acquisition Regulations (FAR). When contracting on behalf of our federal government clients, we require our suppliers and their employees, and any lower-tier providers to comply with all applicable laws and federal regulations, our business ethics and integrity, as well as CACI contractual provisions to include:
| | |
| --- | --- |
| Nondiscrimination | Conflicts of Interest |
| Harassment | Anti-Corruption Laws |
| Wage and Benefits | Fair Competition and Antitrust |
| Child Labor | Gifts and Business Courtesies |
| Human Trafficking | Insider Trading |
| Drug Free Workplace | Conflict Minerals |
| Health and Safety | Counterfeit Parts |
| Environment and Sustainability | Cybersecurity |
| Procurement Integrity | |
Strong and effective supplier partnerships are a key component of our comprehensive expertise and technology products offerings. Our suppliers are carefully screened and vetted to ensure they meet CACI responsibility standards and quality requirements. The supplier qualification, evaluation, and monitoring process includes but is not limited to:
• Pre-award supplier financial health and evaluated risk assessments and ongoing monitoring of key performance risk indexes post award.
• Supplier past performance scorecard reviews and ongoing surveyance and dashboard reporting of critical supplier quality and performance metrics.
• Pre-award social responsibility and environmental sustainability screening to ensure compliance with applicable federal, state and local laws and regulations.
• Pre-award supplier Supply Chain Risk Management (SCRM) assessments to ensure adequate systems and processes are in place to prevent the introduction of counterfeit parts and to safeguard sensitive and proprietary information and to mitigate the threat of unauthorized access or disclosure.
CACI understands the important role that large businesses play in mentoring and providing opportunities to small businesses, which helps them to develop capabilities and employee skillsets and expand their service offerings. CACI has a well-established and award-winning Mentor Protégé Program and received two of the prestigious Nunn-Perry Awards in FY2019 for outstanding Mentor Protégé Program. Currently, there are five small businesses in our Mentor Protégé Program receiving a broad range of management, technical, and developmental assistance.
CACI fully supports the federal government's commitment to sustain and assist the growth and development of small businesses through subcontract awards from large businesses. CACI has maintained an active and successful small business subcontracting program for more than 30 years. We are keen to include small businesses as an integral part of our subcontracting strategy as they bring diverse skillsets and niche capabilities that help us respond to a broad range of client requirements. Since the program's inception, CACI has partnered with thousands of disadvantaged, women-owned, HUBZone, veteran-owned, and service-disabled veteran-owned small businesses, many of which have subsequently grown into large businesses. CACI has an established Small Business Advocacy Office (SBAO) that works with our small business partners to enhance their capabilities and increase the opportunities to grow their business. The SBAO is responsible for focused and targeted small business outreach to include hosting open house events and attending trade shows, job fairs, and industry days. We are proud of the work that we do with small businesses in general and with veteran-owned small businesses, having awarded more than 60 percent of our subcontracting dollars to small businesses and 22 percent to veteran-owned small businesses in FY2019.
Supplier Diversity Recognition
CACI employs a series of collaborative eSourcing and eProcurement tools that reside within our P2P supplier portal to securely transmit information and data and manage critical supplier relationships in a paperless environment. CACI suppliers can register their credentials, respond to RF(x) sourcing events, submit certifications, acknowledge orders, record their time, and track pending invoice payments via an interactive secure supplier portal. Our supplier portal facilitates accurate and timely supplier communications, which improve response time to customers.
CACI is committed to providing a sustainable environment for its employees, partners, customers, and communities by proactively working to reduce our environmental impact. We promote social and environmental responsibility throughout our supply chain by engaging suppliers and industry partners that agree to adhere to the business practices outlined in our Supplier Code of Conduct and that share our commitment to maintaining a sustainable environment that optimizes resources, reduces waste, and minimizes carbon emissions.
Supply Chain Risk Management
Supply Chain Risk Management is an integral part of our procurement processes and spans across all business functions to ensure the authenticity and trustworthiness of electronic components and products and services at all stages of the acquisition life cycle. It is CACI's policy to identify, assess, and mitigate the risk of counterfeit electronic parts and cybersecurity threats throughout our entire supply chain.
Beginning in late 2020, DoD contracts will incorporate a Cybersecurity Maturity Model Certification (CMMC) certification process that measures a company's ability to protect Federal Contract Information (FCI) and Controlled Unclassified Information (CUI). CACI suppliers are responsible for complying with the associated DFARS requirements and meet the stated maturity level in order to perform work for the DoD on behalf of CACI. Accredited third-party assessors will be responsible for independently determining whether internal information systems of companies that perform DoD work have the required cybersecurity controls in place to meet the cyber maturity level assigned to the prime contract. If a company's systems have not been assessed to meet the required maturity level, the company will not be eligible for award.
CACI strongly encourages your company to visit the CMMC website to learn more about how it could impact your business.