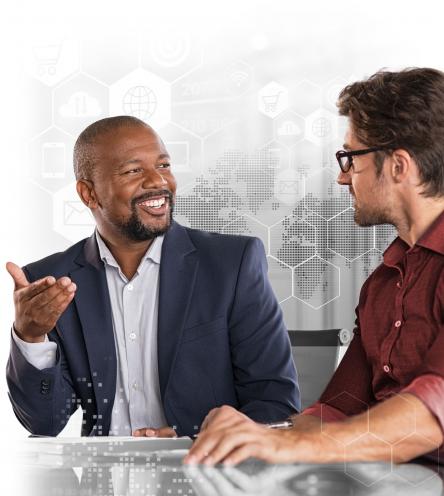 Business Ethics & Integrity
CACI maintains a culture of ethics and integrity and our company adheres to the highest standards of ethical and legal business practices in all areas of the world in which we operate. Through policy, procedure, and education, our leadership, employees, consultants, valued partners, and suppliers adhere to the same standards of ethics and integrity in all that we do.
CACI's ethics, principles, and practices uphold the highest standards in the industry. Our leadership, employees, consultants, valued partners, and suppliers alike advocate and follow these ethical principles and business practices.
CACI is committed to delivering its solutions in accordance with the highest ethical and legal standards in all areas of the world in which we operate. This includes strict compliance with both U.S. and international anti-bribery laws and regulations. CACI strictly prohibits all forms of bribery or other improper payments anywhere in the world, whether they involve government officials or are wholly commercial, and requires that all international opportunities and activities be pursued and executed in strict compliance with the FCPA, and other applicable anti-bribery laws and regulations. CACI's Anti-Bribery Compliance Policy outlines our formal practices and procedures with respect to all international opportunities and activities and identifies internal stakeholders responsible for ensuring we uphold our standard of excellence.
Trade controls are an essential component of U.S. national security and foreign policy and are essential to the integrity of CACI's business. They protect our nation by safeguarding American technology and preventing military technology proliferation by our nation's adversaries. As a company dedicated to serving customers that defend and protect the U.S., CACI remains ever vigilant in complying with applicable U.S. trade controls laws, including but not limited to the International Traffic in Arms Regulations (ITAR), Export Administration Regulations (EAR), and the economic sanctions regulations administered by the U.S. Office of Foreign Assets Control (OFAC). Our good character and commitment to always doing the right thing demand nothing less.
CACI has a comprehensive, company-wide trade compliance program with detailed policies and procedures designed to ensure trade compliance. CACI's Global Trade Compliance Office manages the program's implementation with a dedicated staff of trade compliance subject matter experts. As part of its trade compliance program, CACI provides all employees annual trade compliance training as well as access to other corporate resources to help employees familiarize themselves with trade control requirements.
Counterfeit Parts Prevention
CACI fully understands the necessity in today's supply chain environment for technology providers to remain vigilant and implement adequate controls, processes, and procedures to detect and guard against purchasing counterfeit electronic parts (CEP). With an increasingly complex and global supply chain, we are ever mindful of the need for extra diligence in identifying, tracking, inspecting, and managing CEPs throughout the supply chain to ensure product authenticity and that critical parts are not compromised. Our approach to managing the flow of materials and successfully mitigating the risks of CEPs involve training and awareness and understanding the programmatic and technical risks at all levels of the supply chain to include, source selection, detection, tracking, reporting, and disposition of the defective or compromised parts.