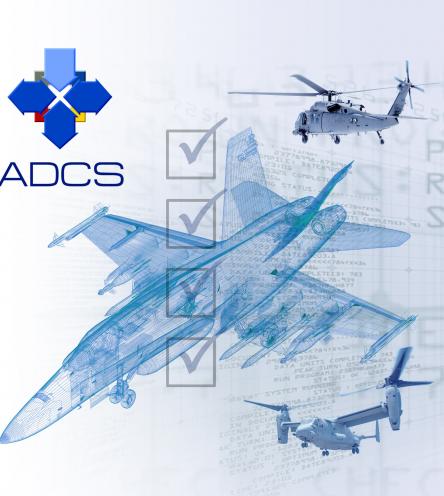 Automated Data Capture System
Capturing robust, accurate, and real time data during inspections from various data sources is a major challenge business are facing today and in the future. These inspection challenges have now become solutions with the reliable technology, proven performance, and intuitive operability of CACI's Automated Data Capture System (ADCS).
CACI's 25 years of experience in data analytics and data engineering has uniquely positioned us to develop ADCS to meet our customers' challenges. ADCS is a user-friendly, interactive, mobile computing system. Originally developed by CACI for the aviation maintenance industry, inspectors use menu-driven checklists plus digital aircraft and engine drawings during inspection and evaluation. CACI has scaled this solution for all industrial users to include the Department of Defense (DoD) and commercial clients by creating easily configurable table-driven screen labels, screen prompts, and business rule expressions. ADCS has demonstrated benefits including reduction of inspection duration by up to 80 percent and offers a real-time view of work issues and robust data analysis to include cost, inspection, maintenance and reliability data.
Gone are the typical data capture challenges such as manual data collection, which was time consuming and error-prone, and disconnected legacy systems with multiple data entry points and lack of real-time data.
By employing CACI's expertise in DoD and the commercial airline industry (for example MSG-3), ADCS is a proven solution for more accurate data, shortened inspection schedules, and effective knowledge management. These efficiencies lead to increased revenues and enhanced utilization of assets for commercial users, plus enhanced budget performance and readiness for the public sector.
CACI's ADCS is designed to perform in the same way inspectors and evaluators think, because these experts were consulted as part of the design. Inspectors no longer must wade through tens of thousands of codes to identify items requiring inspection.
ADCS displays dynamically rearranged drop-down lists and auto-populated data that are instantly accessible. The result is a description of the fault or condition, recommended remedies including material and labor requirements that are electronically distributed for approval, material requisitioning, and issuing of work orders.
Key Features
Rapid implementation built upon more than 25 years of proven experience

Handheld wireless software for data capture

Data engineering to enhance analysis (Reliability Centered Maintenance)

Integrated shop floor systems to capture complete data

Software that reacts like maintenance crews think, which enables the system to synchronize with workers and eliminates excessive drill downs

User focus on information in the order which they perceive, not as dictated by the system

Dominant data points identified for user focus

User attention focused item-by-item, thus enhancing attention to each item
ADCS includes a complete reference list of all inspection specification data and a list of standard defect and discrepancy data records to be used for immediate recording of common object defects. Reference data and defect data must pass stringent data integrity validations before being accepted. ADCS also includes the ability to reference and annotate technical documentation available from internet/intranet sites. Inspectors use menu-driven checklists plus digital equipment drawings and digital photographic images during inspection and evaluation.
With ADCS, inspectors can create immediate discrepancy records and produce real-time reports that fulfill customer and specification requirements. Information is then uploaded to a central system for transfer to production control, scheduling, material ordering, and issuing. ADCS increases transparency since all information is stored and arrayed in a database for easy and timely access by all stakeholders.
Contact CACI to learn how ADCS can be an optimal solution for your business.